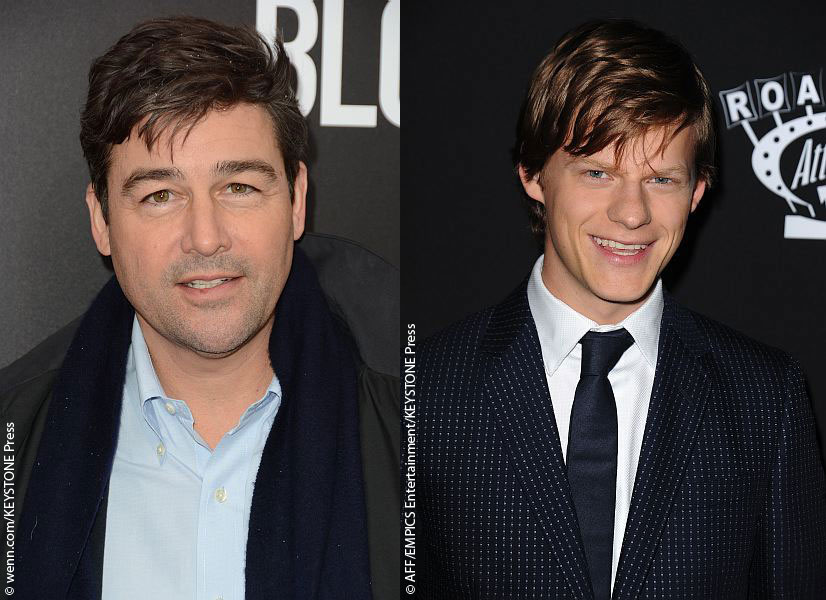 Kyle Chandler
, the Emmy award-winning star of Netflix's popular series
Bloodline
, is one of the stars of the new movie
Manchester by the Sea
.
He was in Toronto to promote the film with his young co-star,
Lucas Hedges
, who plays his son. The two got together for a round table discussion to talk to media outlets about the film and Tribute was there!
The film, which opened in New York City and Los Angeles last Friday, enjoyed the the fourth-highest per-screen average ($60,308) for any film released in 2016. It opens in more cities on Friday, Nov. 25, then expands on December 16, 2016.
When you were first approached to be involved with the film, what did you think of it?
Kyle:
I was in a hotel room in New York when I got the script. I had to read it twice, I was so amazed by it. Met Kenny (director
Kenneth Lonergan
) the next day, had lunch with him, hoped I got the part. He asked me to join on board and that's where I am now. I'm so, so happy that I was part of it, and to jump to the end, when I first saw the film, I had no idea. I had no idea at all that it could possibly be as wonderful as it was. And that's that. I would have never imagined that it could have been as wonderful as it turned out.
Lucas:
I wasn't approached to do the movie — I auditioned like five times. I auditioned once with a casting director, once with Kenny, once with Kenny and a reader, once with Kenny and Casey [Affleck], and then I came down and we had our session and I thought I wasn't going to get it, because Kenny was supposed to take the same car as me to the train to go back to New York and he got in a different car and I was like, "Oh. Shoot. I didn't get it." And then on the train he told me I got it. I knew from the moment I read the script that this kind of a part in this kind of a project, it's extremely rare. I'm very new to this but I've been around long enough to recognize a special script and a special part.
Kyle, do you think your character leaves his son to his brother because he feels it will help focus him to get over his problems?
Kyle:
When I was doing the film that was a decision that had to be made, for me to figure out who the guy was and indeed he did it to save his life. Knowing that I knew my brother in ways that no one would ever know him and who he was and that he was the person who would be best suited to take care of my son and again, it would save his life in the long run so hopefully what happened in the movie would occur, so I made the right decision. Yeah, that was a conscious thought, trying to figure that out.
Kyle, you always play strong roles — your characters have wisdom and they're stern but also give people life-changing advice or help. What draws you to these types of roles that incorporate strong masculinity but are also sensitive to the core?
Kyle:
All the people in my life that know me well and have known me for years wonder the same thing. [everyone laughs] I'm not quite sure but it's been very enjoyable. I've been so fortunate in the last five, 10 years in the some of the films I've been asked to join aboard and these little parts that I've been able to run with. It's been a great experience.
A lot of your characters are people that my friends and I aspire to be like. I want to be a man like that who has integrity but also is strong…
Kyle:
Well you can be! Just give it a try, man. [everyone laughs]
Something that's really strong about the film is the balance of humor and tragedy that we see in the movie. Was that humor, that balance already there in the script?
Lucas:
Completely. Totally.
Kyle:
Yes. And that's another thing that was so exciting about the script — it covered everything. And it left spaces for different actors to find different humor. The script had everything. I realized that I had to do nothing except follow what was there. Because it was already crafted. Everything was there. And sometimes that's the hardest thing, is to not do anything. Just to trust what's on the page. Usually I'm the opposite. I'm scratching things out, writing, this would be a better line, you know, for TV and stuff. This was written by a playwright and it was meticulously put together.
What was he like as a director in terms of his style compared to other styles you two have worked with?
Lucas:
I've worked with several directors like Wes Anderson and something they both have in common is that the entire movie from start to finish is crafted — it's so specifically done. Having said that, Kenny loves to be surprised, he loves it when something happens that he didn't seen coming. But there is such a close attention to detail in his writing that is also true in his directing.
Kyle:
He's very meticulous in all the best ways. And sometimes to work with someone like that is the worst experience in the world because as an actor it'll drive you nuts. We rehearsed a lot and we rehearsed in a lot of different ways and the material was explored. When we got to the set, we knew what was going on. He let off the reins a little bit and let us fill in the spaces so everything came together. But it is his mind. You're living in his mind and he's getting what he wants. And you want to be part of that because he sees everything. He sees what's underneath everything and he knows to present that. It was very interesting watching the final product with everything put together — the post-production music, the whole thing and then it was a revelation at the end. "Oh, that's what he was doing." I'd never worked with him before. Another thing I said to him was, "Please, can I work with you again?" [everyone laughs]
Lucas, what was it like working with Michelle Williams and Casey Affleck?
Lucas:
For me, it was incredibly intimidating. Once we really got into the filming, that faded away and it just felt like we were just in some weird town in Massachusetts and I mean, Casey was just some guy. But it really was intimidating at first especially because we were using Boston accents and I'm from Brooklyn and I'm not a Boston actor, which Casey is, and so it was intimidating at first. But probably for very superficial reasons that I got over.
Kyle:
It's the same for everyone. You meet the actors and everyone's a little nervous when you get together but once you get on the set, then it's full contact sport. Then you're playing the game. That's where everyone's an equal — that's where it's fun.
Lucas:
Do you remember when I came up to do the readings and you played the hockey coach? Do you remember Kenny had you play a bunch of different roles in the movie?
Kyle:
Oh yeah, that's right. I was the barmaid, too. [everyone laughs]
Lucas:
You were? That's right!
Kyle:
And actually, he was so specific in the rehearsals that I was the barmaid, pretending to do the bar, and there was no dialogue. I was the quiet barmaid, which I was really good at, as well. I liked that role. [everyone still laughing] But yeah, I forgot about that. We rehearsed a lot.
Lucas:
[laughing] Yeah, we did.

That's fairly unusual for a film, often people don't give you that much time to rehearse.
Kyle:
It was great that we did it because once we got on the set, there's not much time to get things done so the time that you do have left over you can tweak it. It was a great experience. It was like rehearsing a play.
This takes place in winter — Kyle, you're used to filming in very cold temperatures, having starred in Early Edition. What are some tricks an actor can use to try not to look so cold on camera?
Kyle:
To not… look cold? [Long pause] Uh, maybe a fifth of whiskey in your back pocket. [everyone laughs] That would be number one. I think most actors would agree to that.
Manchester by the Sea
opens in select cities November 25, 2016.
http://www.tribute.ca/news/index.php/kyle-chandler-and-lucas-hedges-chat-about-manchester-by-the-sea/2016/11/23/