'Friday Night Lights' star joins drama from Paul Attanasio, Ridley Scott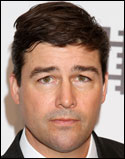 Chandler
Kyle Chandler
is set to topline Showtime's "The Vatican," playing Cardinal Thomas Duffy, the Archbishop of New York.
Drama from Sony Pictures TV is a provocative, contemporary thriller set against the modern-day political machinations within the Catholic church. Cardinal Thomas Duffy's progressive leanings stir up controversy within the church's hierarchy.
Ridley Scott will helm the "Vatican" pilot, which Paul Attanasio penned. Scott, Anttanasio and David Zucker are exec producing the project.
Chandler, best known for his Emmy-winning role on "Friday Night Lights," joins a cast that includes Matthew Goode and Sebastian Koch.
"Kyle Chandler is one of the most talented and sought-after actors working today, and was a fantastic creative partner through five seasons of 'Friday Night Lights,'" said David Nevins, prexy of entertainment at the paybler. "With Kyle, Matthew Goode and Sebastian Koch, Ridley and Paul have put together a powerhouse cast to anchor this incredibly timely show."
http://www.variety.com/article/VR1118066257/?cmpid=RSS|News|LatestNews