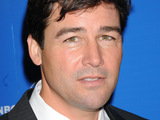 Kyle Chandler
has admitted that he is choosing his roles carefully following
the end of Friday Night Lights
.
Chandler, who starred in the series as Eric Taylor, denied reports that he has been offered a number of pilots but turned them all down.
However, the
Emmy-nominated actor
confessed that he is thinking very carefully about the shows that are being proposed to him.
"I've looked closely at what the next project will be," he told
TV Line
. "You kind of have to. FNL went for five years. I certainly know enough now that if you're going to climb into bed with one of these television shows and it becomes successful, you're there for a while."
Chandler added that he does not always have to think too carefully when he is offered a project, saying: "When you've got [
Friday Night Lights
executive producer] Peter Berg and other folks putting this thing together it's a little bit easier. You knew you had quality people you were signing up with.
"I just did
Super 8
. I didn't even see the script, but it's quite obvious that's pretty easy to do. So I am very considerate of what it is I do next. I listen to my gut, for sure."
Chandler was recently
rumored to be in talks for the lead role in FX's new pilot Powers
, although
Jason Patric
was later
said to be in negotiations for the part
.
Connie Britton
, who played Chandler's on-screen wife on
Friday Night Lights
, has already
joined the cast of FX's new drama American Horror Story
, which will
premiere on October 5
.
http://www.digitalspy.com/tv/news/a331889/friday-night-lights-star-kyle-chandler-choosing-roles-carefully.html